Silence, space, beauty… this is the definition of luxury.
The starting point to creating a sophisticated interior is always the paint colour… beige and gray colours undeniably rule in this apartment. Although located in the very centre of Wrocław, the building is surrounded with trees, therefore it is very peaceful.
In Beige apartment you can enjoy a spacious living room with a beautiful wooden table for 4 and a marvellous open-plan kitchen.
A bathroom than can be your own relaxing home spa, with huge walk-in shower, beautiful lighting and a lot of make up space.
The calming spaces of 2 bedrooms you'll want to stay in forever.
There are 2 big balconies at the apartment. And is there anything better in the morning than enjoying your fresh coffee in the shadow of a chestnut tree?
Beige is a perfect accommodation for families and for extended corporate stays.
Bedroom 1: king size bed
Bedroom 2: queen size bed
Living room: sofa
Fully equipped kitchenette
(capsule coffee machine, fridge, induction, oven, microwave, dishwasher, tableware, dishes)
Bathroom: walk-in shower
Hairdryer
Separate lavatory
Wardrobe
Washing machine
Iron and ironing board
TV
2 Czysta Street
Main Square: 10 min walk, Main Train Station: 5 min. walk.
This oasis of silence offers the perfect calm and serenity while still keeping you in the heart of all the happening in Wrocław. A modern building with an underground garage, lifts and a private yard. The oasis of silence in the heart of Wrocław. The convenient location offers the calm and serenity while still keeping you in the heart of all the happening in Wrocław.
One of the coolest works of architecture in Wrocław: modern and carefully designed, with beautiful private garden.
There in an underground garage and 2 elevators.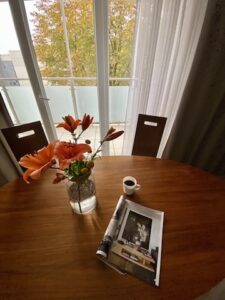 BEIGE
2-bedroom
66 m²
max. 4 people
bedroom 1: king size bed
bedroom 2: queen size bed
Wi-Fi
2 BALKONIES
UNDERGROUND GARAGE
in the building
Luxury apartment in Wrocław.