Exclusive business travel apartment, for short and long stays.
A 1-bedroom apartment that easily transforms into an open space owing to its exquisite design with glass wall. In a bedroom, elegantly decorated with a subtle wallpaper, you will find a king-size bed and a huge wardrobe.
The cooking area with elegant cabinetry was fully equipped with everything you need for the long stay, including an oven and a capsule coffee machine.
Tucked behind a glass door is the bathroom, where you can enjoy a huge shower with water falling directly from the ceiling.
Calming whiteness of the walls, warmth of teak wood flooring (even in the bathroom!) was combined with the inimitable freshness of indoor plants. Beyond just freshening up a room, the plants help to boost air quality and even reduce stress.
Besides a big wardrobe in the bedroom, there is an extra one in the hallway.
A balcony is your private outdoor space where you can rest, drink morning coffee, or relax in the evening.
Bedroom: a king-size bed
Living room: sofa
Fully equipped kitchen
(capsule coffee machine, fridge, hob, oven, microwave, dishwasher, tableware, dishes)
Bathroom: walk-in shower
Wardrobe
Washing machine
Iron and ironing board
Smart TV
2 Czysta Street
Main Square: 10 min walk, Main Train Station: 5 min. walk.
The oasis of silence in the heart of Wrocław. The convenient location offers the calm and serenity while still keeping you in the heart of all the happening in Wrocław.
One of the coolest works of architecture in Wrocław: modern and carefully designed, with beautiful private garden.
There in an underground garage and 2 elevators.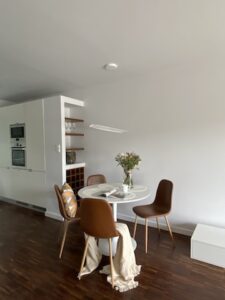 BIANCO premium
1-bedroom
54m²
max. 4 people
double bed + sofa bed
Wi-Fi
BALCONY
UNDERGROUND GARAGE
in the building
Elegant design, perfect location.
Exclusive apartment in Wrocław for business travel, with big balcony, Wi-Fi and undergroung garage.